Our backgrounds are varied, but one thing unites our coaches: a passion for paddling. All of our coaches are not only outstanding paddlers in their own rights but qualified, experienced and accomplished coaches that know how to make a difference to your paddling. So, let's meet some of the regular coaching team…
Lowri Davies

BCU Level 5 White Water & National Trainer for Freestyle, former European Freestyle Champion and international expedition paddler.
Read an interview with Lowri from Ceufad Magazine, September 2013 – click here.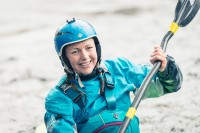 Despite being around kayaking all my life, I didn't get into paddling properly until I was 14, when kayaks and kit really started to fit me. That's when I first got the buzz and understood why my parents had been driving all over Europe every chance they got. I was hooked, nagging anyone I could into taking me paddling – whether it was to a local beck, cold winter surf or a man-made white water course. That enthusiasm soon paid off as I earned a place on the GB freestyle team for the 2001 World Championships in Sort, aged just 16. It was a life changing experience and I've kept on throwing down ends on the International freestyle scene ever since, earning myself a few medals along the way – including European Freestyle Champion 2006-08.
Despite all this, I still consider myself a river boater and can be found creek boating around the UK whenever it's been raining. I love to travel and regularly visit different corners of the Earth for the biggest waves, cleanest drops and most remote gorges I can find. My adventures with my kayak have taken me to over 30 countries on 6 different continents… so far…
I have been fortunate to go on some fantastic expeditions and adventures, including paddling some incredibly remote, big volume rivers in Siberia as part of the Four Borders Expedition; claiming first descents in Mongolia and Georgia; bagging big waterfalls in Chile and getting lost in the jungles of Colombia.
However much I love going paddling for myself; I love helping other people to develop their paddling just as much. Opening the doors to new skills, techniques or experiences is as rewarding a job as you could hope for, which is why I've left my degree on the shelf. Something I really love is helping people through psychological blocks or confidence issues. It's amazing to hear how tactics we use on the river help people in all areas of their life.
I hope to see you on the water sometime soon!
Lowri is sponsored by Palm Equipment, Colour Mill and Plain Lazy.
More coming soon…