Our backgrounds are varied, but one thing unites our coaches: a passion for paddling. All of our coaches are not only outstanding paddlers in their own rights but qualified, experienced and accomplished coaches that know how to make a difference to your paddling. So, let's meet some of the regular coaching team…
Lowri Davies

Despite being around kayaking all my life, I didn't get into paddling properly until I was 14, when kayaks and kit really started to fit me. That's when I first got the buzz and understood why my parents had been driving all over Europe every chance they got. I was hooked, nagging anyone I could into taking me paddling – whether it was to a local beck, cold winter surf or a man-made white water course. That enthusiasm soon paid off as I earnt a place on the GB freestyle team for the 2001 World Championships in Sort, aged just 16. It was a life changing experience and I've kept on throwing down ends on the International freestyle scene ever since, earning myself a few medals along the way – including gold at four British Championships and the 2006 European Championships.
Despite all this, I still consider myself primarily a river boater and can be found creek boating around the UK whenever it's been raining. I love to travel and regularly visit different corners of the Earth for the biggest waves, cleanest drops and most remote gorges I can find. My adventures with my kayak have taken me to over 30 countries on 5 different continents… so far…
In 2007 I was the selected as the only female paddler on an elite team for the Four Borders Expedition, searching out first descents in Mongolia, Siberia and Kazakhstan. It was an unforgettable experience including some big volume, multi-day trips in the most remote parts of the Altai Mountains – and a lot of male humour!
However much I love going paddling; I love helping other people to develop their paddling just as much. Opening the doors to new skills, techniques or experiences is as rewarding a job as you could hope for, which is why it's now my full-time job. Over the years I have spent a lot of time coaching a range of people at all levels within our sport, and enjoy it all.
I'm Canoe Wales' Freestyle Development Officer, a role which gives me the opportunity to have a real effect on freestyle in Wales and help the sport's future heroes and heroines come into their own. I also work with GB Team juniors with individual long term development programmes.
With my varied coaching experience, as well as river guiding all over the world, you can rely on my coaching skills, wherever we're paddling. I hope to see you on the water sometime soon!
Lowri is an aspirant BCU Level 5 coach, who also holds a first class Masters in Software Engineering. She is sponspored by Palm Equipment, Dagger Kayaks, Plain Lazy, PGL, Performance Kayaks and Squarerock.

Find out more about Lowri on her blog: www.lowridavies.co.uk
David Fairweather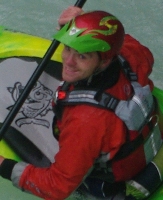 I've been kayaking ever since I realised that all the other kids were better at football than me, so that would be about fifteen years now. After a few years as a slalom paddler, I quite quickly became hooked on river running, and after being taken to the Alps as a super keen teenager, I had definitely caught the bug for travelling with a boat.
A big turning point in my paddling was being selected for the British Universities Expedition to Kyrgystan in 2005. Since then I have been lucky enough to get to some incredible places with a kayak, and paddle some stunning rivers; from big volume multiday in the Indian Himalaya, to laid-back leisure-adventuring in Morocco, a summer road trip following the European paddling season North from France to Norway and plenty more besides.
I have been coaching kayaking and canoeing for over a decade now and I still get a big kick from helping people improve their paddling and from seeing that smile on someone's face when they nail a line, paddle a new river, or discover something new for themselves. It is this passion for passing on my enthusiasm and knowledge that led me to my current job as a teacher.
When not in school or coaching, I am usually found in a boat somewhere; on a river when it has rained, touring in an open boat, or exploring the coast in a sea kayak. See you on the water.
David is an aspirant BCU Level 5 coach and has recently completed a Post-Graduate Certificate of Education in teaching Physics and Outdoor Activities. He is an active member of Team Pyranha and also supported by Peak UK.
Jon Davies
I have been kayaking ever since I was big enough to pick up the then 3.5 meter kayaks. For me this was when I was 12, from the moment I took to the water I knew paddling was for me. I quickly progressed with input from my Dad, big sis and many other boaters all with sore ears from my questions.
At the age of 13 I dropped off my first waterfall, a beautiful 25 foot drop. Paddling a Topo with a set of Schlegel "stop and go" paddles and wearing a motor cycle helmet. This was my first big buzz in a kayak – I was hooked – steep creeking and river running was the path for me. One of my proudest achievements in this arena was becoming one of only a handful of paddlers to ever successfully run the formidable Rheadr Mawddach back in 2008 – to read more about that unforgeable experience and see the video footage, check out our blog.
I am still a keen steep creeker/river boater but when the weather is less wet I take great pleasure from the more relaxing end of paddlesport. Paddling an open boat under a bright sun in a pair of shorts or all wrapped up in winter kit under the night stars is a fabulous experience and can be as exhilarating as hucking off a 60 foot fall.
Recently I have joined a voluntary organisation called Global Rescue Services which runs a specialist water rescue team, as well as spending time with the Mountain Rescue teams of North Wales. These experiences have allowed me to become involved with the cutting edge of flood awareness and whitewater rescue, which means I can pass on real life experience and understanding of these situations when coaching.
If you see me on the water, or on the bank, come and say hi (preferably bearing tea and cake).
Find out more about Jon on his blog: jontheboater.blogspot.com
Fran Kohn
I started kayaking back at the tender age of 12, when I was in scouts. And after doing my 2 Star I was hooked – and adamant I was going to roll! However, I didn't get into white water until I was 18 and went to University. As soon as I joined the club in fresher's week I knew this was what I wanted to do.
From my first experience of being 'thrown' down whitewater to my more informed trips on rivers I have enjoyed the thrill of whitewater kayaking. I love everything about kayaking from the scary drops, rapids and rivers that make your stomach tighten, to chilling out on a lake and just having a good splash around.
A wonderful thing about kayaking is the amazing places you get to visit. For the last 6 years I have been lucky enough to get abroad on kayaking missions every year: including paddling, coaching and guiding in Slovenia, Austria, Italy, France and Chile… and am just about to jet off on another kayaking adventure to Nepal.
I got the bug for coaching whilst at University. I really enjoy helping people to learn new skills and improve old ones. There is something very satisfying about the look on someone's face when something has suddenly clicked and become easier, and it is nice to be a small part of that. After all, we were all beginners once and I think it is a wonderful thing to pass on knowledge – and that's why I've chosen coaching as my career.
See you on the river sometime…
Fran is an Aspirant UKCC Level 3 Coach with Moderate Water Endorsement – her experience and enthusiasm has helped her to be one of the first through the new qualification system… making us all proud as she was one of our first trainees!