We're very excited to have teamed up with our friends at Love it Live it to offer an amazing trip to one of the most dramatic and unique places to go kayaking in the whole world.
A two week guided trip to experience the stunning Zambezi River in the heart of Africa

Top quality, low ratio coaching with World Leading coaches Lowri Davies and Sam Ward.

Coaching and trip specifics taylored to your personal needs.

A 4 day raft supported trip down the Batoka Gorge.

See Victoria Falls from above and below!

Sunset safari boat cruise on the Upper Zambezi.

All shuttles, porters, park fees, logistics and assistance with pre-trip planning.

Optional extras include a game safari in the legendary Chobe National Park, bungee jumps, sky dives, helicopter rides and many more!
Trip Summary
The Zambezi River is justifiably one of the most famous sections of white water in the world. The kayaking is located in the Batoka Gorge, directly below Victoria Falls – one of the seven natural wonders of the world. Whether you are a confident grade 3+ paddler and it's your first time out of the UK or you are looking to hone those big volume down river and play techniques, the Zambezi has amazing white water to help you improve.
The two week trip is run by world class kayakers and coaches who's passion for the sport, technical expertise and in depth knowledge of the Zambezi River will help maximise your progression.
Included in the trip is a raft supported four day trip through the gorge, taking us on a 60km journey from Victoria Falls. The spectacular scenery and an African sunset whilst camping on the sandy riverside beaches at the base of the gorge tops off perfectly the full days of warm water paddling.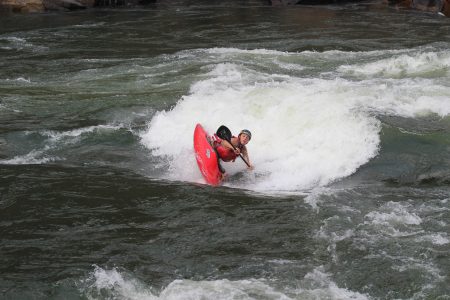 Upon return from the multi-day trip we will go on a sunset safari boat cruise on the Upper Zambezi – spectacular wildlife, good food and a free bar to take advantage of as you see fit!
To complete the African adventure experience an optional extra is a full day's safari in the Chobe National Park near to the Zambezi. Forget National Geographic, seeing the huge animals living in their natural environment is an experience that will stick with you for a lifetime.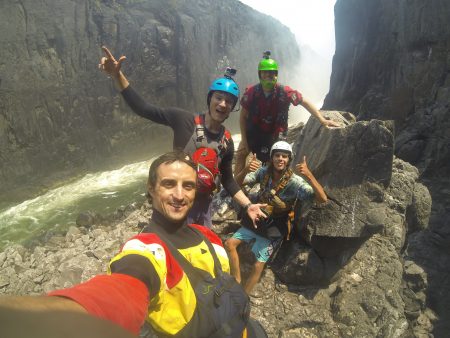 Dates:
9th September – 22nd September 2018
These dates are flexible. We will alter the length and start dates to suit your needs wherever possible, and do our best to arrange a completely new date if that's what you require. Drop us an email if the date you want is not there… info@flowfree.co.uk
Who is the trip suitable for?
Intermediate / advanced paddlers. If you have a reasonable level of fitness, a solid whitewater roll and you are confident on grade 3+ there will be plenty of fun to be had on the Zambezi.
A minimum group size of 8 is need to be reached for this trip to go ahead.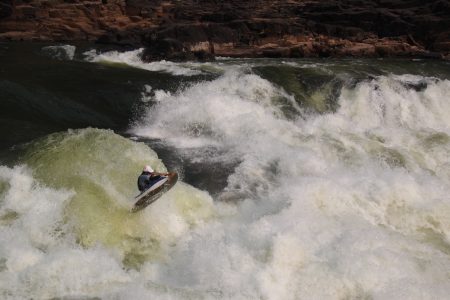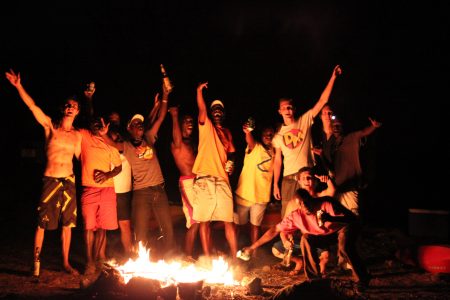 Cost
£1699 (includes a £250 deposit).
Includes
– Shuttles to and from Livingstone Airport
– Daily transport to and from the river
– All National Park fees and porter fees
– Expert guiding on and off the river
– Emergency helicopter evacuation insurance for each day on the river (this is NOT medical insurance)
– Quality individualised coaching, including video feedback
– A 4-day trip down the gorge including a support raft to carry all the food and equipment whilst on the multi-day trip
– A Sunset Safari Boat Cruise
– All accommodation
– All Food whilst on the 4-day trip and boat cruise
– Lunches on all river days
-Cold drinks at the top of the gorge after paddling
– A chance to view Victoria Falls from the lip of the gorge
– Assistance with all logistics and local knowledge on and off the river to help you get the most out of your stay
– Advice prior to trip on the climate, equipment needed and general travel advice if desired.
Excludes
– Flights.
– Personal equipment (rental can be arranged for an additional cost)
– Travel insurance
– Drinks for the duration of the trip
– Breakfast and dinner outside of the 4-day trip
– The cost of any optional extra activities e.g. safari, bungee jump, sky dive etc.
Medical
Please contact your local doctor well in advance of the trip. They will fill you in on everything that you need to know.
Some information about vaccinations and anti-malarial drugs can be found here:
http://www.mdtravelhealth.com/destinations/africa/zambia.html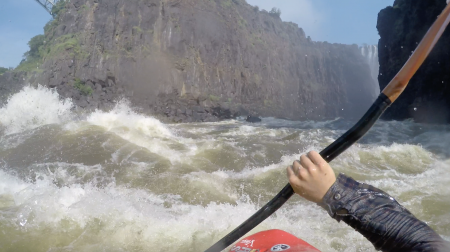 Questions and Booking
If you have any queries at all, feel free to drop us an email. If you want to make a booking, emailing us is also the place to start: info@flowfree.co.uk
We very much hope that you will join us on this epic trip to one of the world's 7 wonders!