Ever wondered how to make interesting and engaging paddling videos? Take your first steps towards becoming the next Bombflow producer with this new and exciting course from FlowFree and Root Down.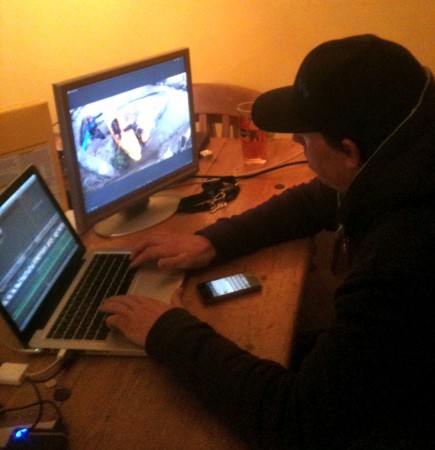 With the guidance of our expert tutors, you'll film and edit your own mini paddling movie and learn how to export it and publish it online. We'll start by thinking about video styles before going out and filming some white water kayaking action using a mix of GoPros, SLRs and handheld cameras. We'll look at how and when to use tripods, monopods, mounts and booms to get the shots you really want. You'll be encouraged to try a range of filming techniques and tactics.

This video was filmed and edited by Root Down, then shown on the big screen at the party later that day.
Back at base, we'll look at the nitty gritty of video editing: tools for the job and how to use them. You'll be in a relaxed classroom environment where students are encouraged to learn from each other's work, while having a our guru on hand to answer any questions and show you some handy hints and shortcuts. Finally, once you've created a masterpiece, we'll run through the options for exporting it (which format: when and why) and publishing it online or creating a DVD.

Checkout more videos by Root Down.
You'll need to bring along a camera that films in digital format, ideally in HD onto an SD card though that's not essential. Brining your own laptop / computer in order to edit the video would be advantageous as it will allow us to help you to see how things work on your own computer with the software you have available. If you can't bring a computer to work on, let us know.
Duration: 9am-8pm – in order to get the most from the day, we will film in the morning and spend the afternoon and evening looking at different editing, exporting and publishing options.
Price: £85
Dates:
15th February 2014
10th May 2014
13th September 2014