Most of our courses run in North Wales, but other locations can be arranged. We run bespoke courses for groups or individuals, so if you do not find the course or date to suit you then just get in touch.
Introduction to Playboating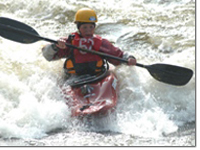 Learn how to surf holes and waves with control. We'll focus on how to manoeuvre around the feature, keep balance and how to stay on the wave while being able to leave when you want to! We'll introduce basic freestyle moves such as spins and shuvits, while showing how to progress onto other moves. This course aims to leave you with a love of playing, plenty to work on and a big grin.
Pre-reqs: Good moving water roll.
Duration: 1 day

Price: £90
Venue: Dee (Llangollen) or HPP (Nottingham) unless otherwise specified. We are flexible so let us know your preference.
Progressive Playboating
Want to nail that elusive third end? Can't keep your loops straight? Not sure how to blunt? We'll use video feedback, expert demonstrations, land-based exercises and visualisation techniques to help you to understand both what you are doing and what you want to be doing! With some of the World's top freestyle paddlers and coaches on hand, you'll be amazed at your progress – whatever your level! Exact course content will be tailored to each individual enrolled.
Pre-reqs: Some playboating ability e.g. able to move around a feature, spin and at least attempt other moves.
Duration: 1 day

Price: £90
Venue: Dee (Llangollen), Tryweryn (Bala) or HPP (Nottingham) unless otherwise specified. Other locations on request.
Playboating Development Week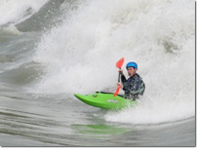 Lyon, in sunny Southern France, is a playboating mecca. It has something for everyone: small friendly waves, excellent play holes and world-famous big waves! This week of playboating development will use all of these features to progress your playboating, whether you're aiming for your first flat-spin or want to nail those airscrews.
Pre-reqs: Some experience of playboating and a good moving water roll required.
Duration: 7 days

Price: £699
Price includes all coaching, accommodation, meals, water fees and transport around Lyon. Excludes travel to Lyon, personal travel insurance, beer and snacks.
For full information and loads of photos, check out the trip info page.
If you are interested in a course and there are no dates to suit you, please just get in touch.