Most of our courses run in North Wales, but other locations can be arranged. We run bespoke courses for groups or individuals, so if you do not find the course or date to suit you then just get in touch.
WW Improvers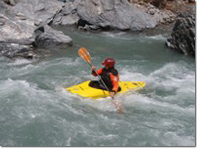 This two day course will take you through the foundations and progress your paddling so you feel in control on grade 2 to 3 white water. We'll focus on elements such as balance and effective paddle strokes to enable you to move gracefully around the river.
Pre-reqs: Grade two white water experience. No roll required.
Duration: 2 days

Price: £135
Confidence Booster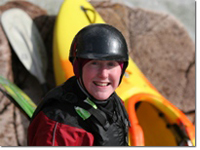 Confidence is a delicate thing and without it, no-one can paddle at their best. Losing your confidence can happen to anyone, of any standard. There may be a trigger – perhaps you've had a bad experience or had a long gap since your last white water adventure – but sometimes you just seem to lose your mojo. We understand how frustrating this can be and would like to help you past that mental block towards happy, relaxed and enjoyable paddling at whatever level you're at. Low ratios and highly experienced coaches ensure that you will have a very productive weekend, tailored to your needs.
Pre-reqs: Experience of grade 2 white water. A moving water roll is an advantage but not required.
Duration: 2 days

Price: £145
Freeridin'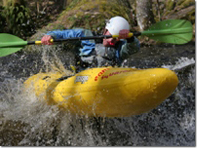 Get even more fun out of your days on the river! This course will show you how to utilise the river's features so that before you know it you are styling the river; pulling off satisfying boofs, flashy flares and rockin' rockspins. On top of all that, we'll look at using the river's waves to our advantage – whether for efficient running of rapids or showing off your latest tricks. By the end of this course you will be seeking out fun moves on every river you do!
Pre-reqs: Confident on grade 3 white water. Good moving water roll.
Duration: 2 days

Price: £145
Steep Creeking & Advanced White Water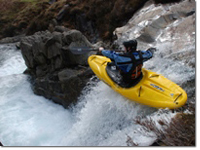 This course is designed for anyone wanting to sharpen their skills on grade 3+ to 4 and above, or on steep rivers with drops, slides and waterfalls. Our coaches will use their years of experience of paddling around the World to help you to become confident, smooth and stylish even on the most difficult waters. The course will be tailored around your needs, but we can cover:
-Tactics for paddling in big volume
-Read and run on complex and steep rapids
-Perfecting a reliable boof
-When, where and how to flare
-Safely absorbing impacts
-Altering your angle of flight
-Tactics for recovery
-Access on steep ground
-Safety & Rescue techniques within these steeper environments
Pre-reqs: Experience of grade 4 white water. Solid moving water roll.
Duration: 2 days

Price: £145
If you are interested in a course and there are no dates to suit you, please just get in touch.