Safety on the river is essential. Let us help you to make your paddling safe while keeping the thrill factor!
Below you'll find dates of organised courses you can book on to. If you'd rather not be limited by a syllabus or have a group of friends keen to do a course then we can organise private and bespoke courses for groups (which often works out cheaper too). If this is of interested, just get in touch.
BCU White Water Safety & Rescue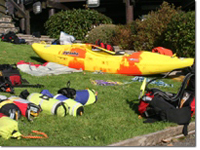 The BCU White Water Safety and Rescue is a two-day course which covers all the basic safety and rescue techniques required for white water paddlers of any experience. As well as the skills and techniques required to deal with things when they go wrong, we'll also focus on the important role of safety to prevent these situations arising in the first place!
And why do this course with us? Well, our experience in paddling white water all over the world with a variety paddlers has given us plenty of opportunities to practice all of these skills for real. Using this experience we'll make sure everything we cover is made relevant to you and your paddling buddies and make all scenarios as realistic as possible.
Full details of the techniques covered can be found in the BCU syllabus.
You will require your normal paddling gear and some basic rescue kit, however we have PFDs with rescue harnesses and other such equipment available to borrow, just email us to request kit.
Pre-reqs: Confident in grade 2 white water.
Duration: 2 days

Price: £150